Fortunately, Seattle has been a pioneer in sustainability, and as you spend time in this green city, you can feel good knowing that you're helping to protect the planet. The city recycles more than double the national average, and more than 90 percent of local electricity comes from hydropower. Plastic single-use shopping and carryout bags are banned statewide, and Seattle banned plastic utensils at restaurants and bars in 2018.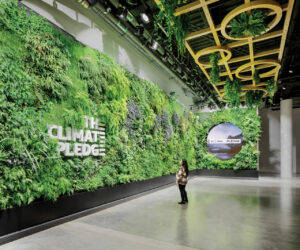 The city is also at the forefront of sustainable construction and environmental innovation. Notable attractions including the Burke Museum (4303 Memorial Way NE), the Museum of History and Industry (860 Terry Ave N), the Seattle Asian Art Museum (1400 E Prospect St), and the National Nordic Museum (2655 NW Market St) have earned prestigious LEED certification through their ambitious green design initiatives, and Seattle Center's awesome Climate Pledge Arena (334 First Ave N) uses no fossil fuels, harvests water from its rooftop catchment system, and has deployed a number of other novel systems to become the world's first net-zero carbon arena.
Seattle's extensive public transit network of buses, trains, and boats makes it easy to navigate the metro area without a car. Ride-, bike-, and scooter-share programs are easy to access all over town, and SEA Airport (17801 International Blvd) continues its mission to become North America's greenest airport through a variety of initiatives. For more on traveling sustainably in the Emerald City, see our page Green Travel Made Easy.
---
As you shop around town, a reusable bag is indispensable. Pick up a stylish corduroy-fleece tote at KAVU (5419 Ballard Ave NW), sturdy Patagonia camping bags and inexpensive recycled canvas carriers at the REI (222 Yale Ave N) flagship store, and elegant and roomy reusable bags at Pipe and Row (611 N 35th St).