Favorites For Insta-Moments
If you're looking for the guide to Insta-worthy experiences, brunch to die for, and boutiques to make even your fittest fashionista friends jealous—you found it.
These recommendations are based on businesses open and operating under Phase 2 of the state's Healthy Washington – Road to Recovery plan as of Feb. 24, 2021. Read our Travel Advisory for more details. In addition, please check ahead on business' websites to ensure knowledge of their guidelines and protocols.

Wake up to expansive views of the Seattle skyline at Motif Seattle. If you enjoy morning walks, take a stroll down to the waterfront and take in the salty air. Once you're finished, head to Ballard to start your day.

If you're around on a weekend, take yourself over to Sawyer in Ballard for neighborhood family style staples done right and veggie hash to die for.
In town on a weekday? Grab coffee and gluten-free pastries at Anchored Ship Coffee.

Ballard is heaven for brew lovers. Home to over a dozen taprooms, no visit is complete without glass of something foamy and chilled. Head to the outdoor patio at Reuben's Brews and snag a flight—there are over 180 beers to choose from and it'd be a sin to only try one. Need a snack? Pick from one of their rotating food trucks.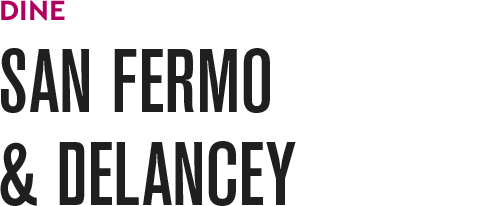 For a dinner with undeniable atmosphere, try San Fermo in Ballard, an Italian restaurant inside Seattle's oldest house, offering both indoor and outdoor dining options. Try the saffron spaghetti Bolognese for a unique twist on a familiar favorite.
If you're looking for handmade wood-fired pizza, look no further than Delancey, an unbeatable pizza place open for takeout only. Grab the onion pie with aged mozzarella—you'll be thinking about it for weeks.

If you're ready for something sweet, check out Hot Cakes, a molten cake factory in Ballard. Order their Peanut Butter Chocolate cake for a gooey delight.

Finish off your day at Frolik, a rooftop bar located on top of your hotel, Motif Seattle. The stylish atmosphere and bird's eye view of the city provides the perfect backdrop to open up conversation, and their signature Patio Punch made with mangoes, pomegranates, peaches, and Prosecco, closes out the night beautifully.

Wake up and pick up brunch at Toulouse Petit, a New Orleans style spot with must-have beignets.
From there, feast in Kerry Park, one of the most photographed spots in the city. With panoramic views of Elliott Bay, the Space Needle, and even Mt. Rainier on a clear day, Kerry Park is a must-see for photographers and the photogenic alike.

From Kerry Park, head over to Fuji Bakery, a local bakery that combines Japanese and French techniques. Try an Ube Malasada for a purple pastry that is sure to surprise.
Take your pastries to the International Fountain located in Seattle Center, an iconic spot that is walking distance from famous attractions like the Museum of Pop Culture and the Space Needle. Plus, get up an up-close view of Climate Pledge Arena, future home of the NHL Kraken.
Dig in to your flaky treats and plan your next Seattle adventure.