Here's a hot tip about a series of streaming concerts featuring some of Seattle's top musicians—read on for the scoop!
Seattle is known as being a great city for music, but COVID-19 has severely impacted this creative sector, leaving our talented artists without gigs, and our audiences without the joy of live music concerts and festivals as our stages fall silent for now. So some recently announced good news was most welcome: the new Seattle chapter of Black Fret announced a round of 2020 grant funding to support local musicians.
Black Fret was founded in Austin in 2013 as a charitable organization to provide direct support and performance fees to Austin musicians, distributing more than $1.75 million to date. Seattle's chapter marks the beginning of a planned national expansion and officially launched in February 2020 just as the pandemic began to change the landscape as we know it. While some future plans are on hold for now, these grants will help support Seattle musicians when they need it most.
Congratulations to the 2020 Black Fret Seattle Grant Recipients:
Bearaxe, Chong The Nomad, Whitney Mongé, Naked Giants, Sera Cahoone, Smokey Brights, Stephanie Anne Johnson and the Hidogs, The Black Tones, Tomo Nakayama, and Tres Leches.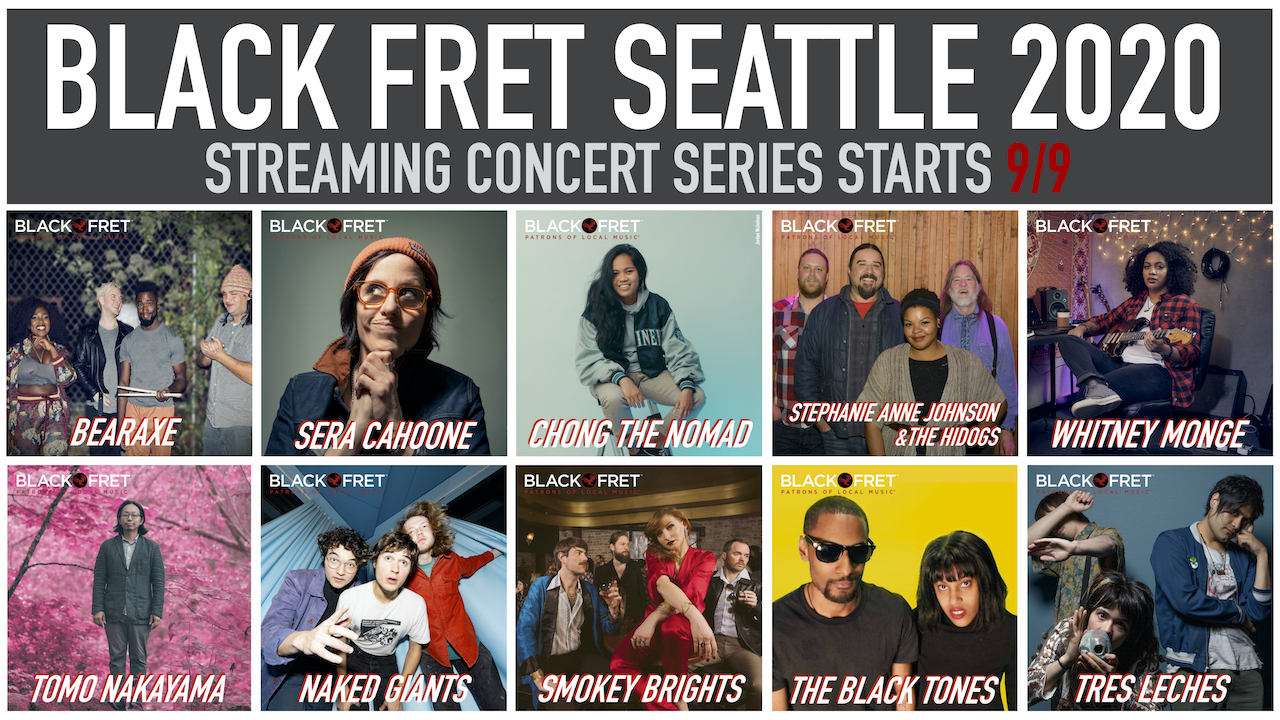 Each artist or band will receive a $5000 grant that they can use as they choose to support their career development and each of the 2020 awardees will be featured in a concert series streaming live from Nectar in Seattle's Fremont neighborhood.
Find the links and info on Nectar's event page. All shows are at 8pm PST.
Each show will act as a benefit for a different local non-profit chosen by the artist.
Concert Lineup:
Wednesday 9/9 Chong the Nomad (benefiting The Okra Project)
Wednesday 9/16 Naked Giants (benefiting Nurturing Roots Farm)
Wednesday 9/23 Stephanie Anne Johnson and the Hidogs (benefiting Feed 253)
Wednesday 9/30 Smokey Brights (benefiting King County Equity Now)
Tuesday 10/6 Bearaxe (benefiting Young Women Empowered)
Wednesday 10/14 Tomo Nakayama (benefiting South King County & East Side Mutual Aid)
Wednesday 10/21 Sera Cahoone (benefiting Ingersoll Gender Center)
Wednesday 10/28 The Black Tones (benefiting Central District Forum for Art & Ideas)
Wednesday 11/11 Tres Leches (benefiting Somos Seattle)
Wednesday 11/18 Whitney Mongé (benefiting Langston Seattle)
AUDIO & VIDEO PLAYLISTS
If you'd like to hear the 2020 musicians, you can check out this Spotify playlist or view a video reel.
Hope you'll join us for the shows!
Top Photo: Chong the Nomad from Visit Seattle's Uncharted: Seattle