By Tracey Wickersham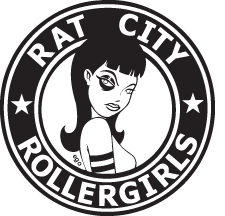 It's Tasha's fault. My former colleague.  Mild mannered convention sales manager by day, free-spirited roller derby hellion by night.  As one of the original Rat City Rollergirls founders, "Tash-Ya 'Round" had an infectious enthusiasm for her sport that I quickly caught. And all kidding aside, I'm glad I did! (Although my knees and elbows are grateful that I sensibly stopped short of actually suiting up for the tryouts.)
The Rat City Rollergirls is Seattle's premiere all-female, flat-track roller derby league.
Composed of about 80 active skaters, and many retired but still involved former skaters, RCRG has four home teams: Derby Liberation Front, Grave Danger, Sockit Wenches, and Throttle Rockets. An all-star traveling team represents the league on the road.
Roller Derby was popular in the 1950s and 1960s (and if you've ever seen the grainy, slow moving footage from those tv broadcasts you will join me in wondering why) but has had a big resurgence nationwide since the early 2000s, a revival led by all-women's teams.
Legend has it that the Rat City Rollergirls got rolling in 2004 with a story involving good friends, glasses of wine, lamb stir-fry and wild stories about a roller derby resurgence in Texas. Weeks later, that dinner party conversation led to the formation of the first flat-track derby league in the Northwest.
Within months, the Rat City Rollergirls – named, after a fashion, for the South Seattle neighborhood where the league got its start – had taken off.
With lightning-fast jammers and a swarm of precision blockers, the women of Rat City have taken the national derby scene by storm, scoring well in sanctioned tournaments and maintaining a ranking among the nation's top 10 best derby teams.
After starting in smaller and frankly funkier venues, the RCRG has found a home at KeyArena, also home to the Seattle Storm WNBA team.
Bouts are unlike any other sporting event I've attended. They have silly, campy elements like tongue-in-cheek mascots, outrageous outfits, unusual half time entertainment, and an ever-creative parade of skater names.  Some of my local favorites, past and present: "Ida Slapter," "Rae's Hell," "Sara Problem?," "Anya Heels," "Drew Blood,"  "Betty Ford Galaxy," "Carmen Getsome" and "Shovey Chase." But despite the deliberate choice to keep a lighthearted tone, these women are serious skaters, displaying a remarkable athleticism, fearlessness, and tactical maneuvers that keep the crowd engaged.
It takes a bit of attention to get the hang of Roller Derby rules, like why are those people exchanging helmet covers in the middle of a jam, or how to tell your pivots from your jammers and your blockers.  But trust me, you can do it, and you'll have fun.
The 2013 season opens January 19.  Season and single bout tickets are on sale now through Ticketmaster.  Choose from VIP or GA, with discounts for children, groups, and flex packs.  The RCRG try to maintain a PG-13 rating; I recommend reading the bout info page for a pretty clear explanation to help you decide if it's suitable for your family.
And yes, it might get LOUD!