The majority of Seattle visitors staying downtown have no idea that they're blocks away from one of the most exciting neighborhoods in the entire country. Capitol Hill, adjacent to the east perimeter of downtown, has long been the Emerald City's gay epicenter and home to artists, hipsters, students and now-famous musicians, not to mention some of the best restaurants, bars, coffee shops, live music venues and public parks.
If you're only in town for a couple of days and want an authentic Seattle experience, head to Capitol Hill. Here's what I recommend checking out.
DAY 1
MORNING
If you can snag a table at Glo's (1621 East Olive Way), a diner not larger than most office cubicles, then consider yourself lucky. A lot of TLC goes into their slammin' breakfast and lunch plates, nearly all made from scratch, including waffles, omelets, hashes, benedicts, frittatas and their signature Sour Cream Coffee Cake. Seattleites are notorious for lounging around coffee shops at all hours of the day and Capitol Hill provides an abundance of quaint, little cafes to glance at the morning newspaper, fiddle on your laptop, or just read a book. Local chain Top Pot Doughnuts (609 Summit Avenue East) began crafting its hand-forged treats at its Capitol Hill location, where wall-to-ceiling bookshelves, window-side nooks and the scent of freshly-made doughnuts still attracts daily crowds. If weather permits, a stroll through Lake View Cemetery (1554 15th Avenue East) delivers you to the resting places of famed martial arts star Bruce Lee and film actor/son Brandon Lee, whose tombstones lay side-by-side.
AFTERNOON
Cafe Presse (1117 12th Avenue) is a great stopping point for lunch, a French bistro with an a la carte menu of steak-frites, poulet roti, ouefs mayonnaise and the best croque monsieur/madame this side of the Eiffel Tower. Capitol Hill is a magnet for vintage and thrift shop hounds, and within a few blocks of Cafe Presse are two treasure troves for used goods.  The Lifelong Thrift Store (1017 East Union Street) is where many gay men offload past season designer threads, so you'll find a quality selection of denims, shirts, jackets, sportscoats and shoes at dirt cheap prices, aside from furniture, dishes, jewelry, DVDs and nick-nacks. Proceeds from store sales go directly to Lifelong AIDS Alliance, a local organization that assists people living with HIV/AIDS and works to stop infections before they occur.  Value Village (1525 11th Avenue – note: this location is now closed, but other locations persist) is not only sought after for its vast assortment of men's and women's clothes, books, home furnishings and Halloween costumes, but this three-story retail outlet is also pursued by fans of Seattle rappers Macklemore and Ryan Lewis, who shot part of their "Thrift Shop" music video on the top floor. On Broadway, Red Light Vintage & Costume (312 Broadway East) is where the neo-grunge folks and retro-wearing kids stock up on cool T-shirts, worn-in Levis andWestern-style button-ups. Across the street is Crossroads Trading Co. (325 Broadway East), a recycled clothing chain with lots of brand-name items.  If clothes aren't your thing, perhaps you'll enjoy perusing the tall, wooden shelves at The Elliott Bay Book Company (1521 10th Avenue) for a new read, and then complete an afternoon of shopping with a snack at its back-corner cafe.
EVENING
With dozens of restaurants scattered throughout this vast neighborhood, it won't be difficult finding something that appeals to both your palate and budget. Two of the better reviewed Italian restaurants are on Capitol Hill, the highly-acclaimed and upscale Cascina Spinasse (1531 14th Avenue), where foodies can savor braised rabbit with roasted vegetables or fine handmade pastas, and the more casual and affordable Ristorante Machiavelli (1215 Pine Street), known for its simple yet excellent take on classics like eggplant parmesan and veal saltimbocca. Quinn's Pub (1001 East Pike Street) claims one of the nation's top ten burgers, but its wild boar sloppy joes and fresh fish and chips are equally scrumptious.  Oddfellows Cafe + Bar (1525 10th Avenue) draws a steady flow of diners for its hearty fare, though also for its open ambiance with high ceilings and community table seating. Post-dinner, catch the latest Pedro Almodovar movie or current indie film at the Harvard Exit (807 East Roy Street), a two-screen cinema inside a 1920s brick building, or see an original play at one of Capitol Hill's independent live stage venues, such as the Annex Theatre (1100 East Pike Street) or Balagan Theatre (1524 Harvard Avenue), or participate in a writers' seminar at Richard Hugo House (1634 11th Avenue). If you packed your dancing shoes, then join a salsa, tango or waltz class at Century Ballroom (915 East Pine Street), on the second floor of the historic Oddfellows Hall and where Rupaul's Drag Race Season 6 contestant BenDeLaCreme hosts Monday night viewings of the reality TV show.
LATE NIGHT
Capitol Hill is a party zone on the weekends, and most nights of the week, boasting around 20 gay bars and an additional 200 mixed establishments.  The cramped, dingy confines of Pony (1221 East Madison Street) give off an edgy and debaucherous vibe, and its here where alternative gay men – donning Morrissey tee-shirts or goth gear – are most likely to congregate.  Diesel (1413 14th Avenue) is a bears-friendly watering hole, while Madison Pub (1315 East Madison Street) is a sports bar where LGBT football fans convene to watch Super Bowl champions the Seattle Seahawks on game days. Wildrose (1021 East Pike Street) is the lone Lesbian bar in these parts and attracts a loyal group of barflies, who shoot pool, dig into good grub from the kitchen and sing their hearts out on karaoke nights. Purr Cocktail Lounge (1518 11th Avenue) is always packed to the brim on Saturdays and Sundays, a hotspot for trendy gay men and their tag-along straight gal pals. Neighbours (1509 Broadway) is where you want to wind up at night's end; it's Seattle's premiere gay dance club with two floors of space and weekly themed nights (80s, Latin, Drag, etc.). For an early AM bite, head to Dick's Drive-In (115 Broadway East), a fast food institution serving burgers and fries only with hand-whipped milkshakes, and where Macklemore and Ryan Lewis filmed another music video, "White Walls."
DAY 2
MORNING
For a filling breakfast, try Coastal Kitchen (429 15th Avenue East) on the 15th Avenue strip of Capitol Hill. This polished diner has all the morning fixins' – eggs and meat combos, pancakes, benedicts – and specialty dishes that coincide with its monthly world region menu. For something on the lighter side, Joe Bar Cafe (810 East Roy) whips up terrific crepes that satisfy both carnivores and vegetarians in the most charming of independent coffeehouses, or grab a pastry at Crumble & Flake (1500 East Olive Way) while they last – they close when they sell out of product, usually by early or mid-afternoon. The Volunteer Park Conservatory (1400 East Galer Street), used for special events and films like the Demi Moore vehicle Disclosure, is time well spent for horticulturists, and afterwards skip over to the Seattle Asian Art Museum* (1400 East Prospect Street), another resident of this 48.3-acre public park that also includes a water tower with observation point, tennis courts, children's playground, grass lawns for picnics or sunbathing, and views of downtown and the Space Needle.
AFTERNOON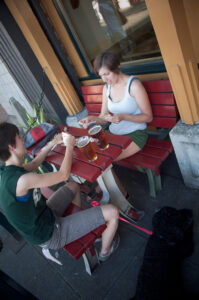 Vegan restaurants are common throughout Seattle and amongst those with consistently top marks is Plum Bistro (1429 12th Avenue), serving tasty sandwiches, pizzas, pastas, soups and desserts with natural ingredients in a cozy ambiance. Not too far away is an option for wiener fans, Po Dog (1009 East Union Street). Its menu selections range from Po Roll (sushi dog) to BLTA Dog to the utmost interesting PB Dog, a layering of peanut butter, sliced banana and chopped peanuts atop your choice of frankfurter.  Capitol Hill is a prime go-to district for reputable international cuisine, especially Thai and Vietnamese, including Ayutthaya (727 East Pike Street) for roasted duck curry and coconut chicken, and Ba Bar (550 12th Avenue) for vermicelli bowls, phos and the Monday through Friday-only "House Special", their signature mung bean hue dumplings. Later, work off your lunch by strolling in and around Cal Anderson Park (1635 11th Avenue), named in honor of Washington's first openly gay state legislator. Within footsteps are a pair of beloved snack chains, Molly Moon (917 East Pine Street) scooping up house-made ice cream in distinct flavors (Earl Grey, balsamic strawberry, etc.) and Cupcake Royal (1111 East Pike Street) offering an array of 66% organic cupcakes and tempting treats, like bacon crack cookies. If you're leaning boozy, Starbucks has two locations on Capitol Hill (1600 East Olive Way, 328 15th Avenue East) that double as wine bars.
EVENING
Poppy (622 Broadway East), as well as the aforementioned Casina Spinasse, landed on Open Table's "Top 100 Fit for Foodies" restaurant list in 2013, voted on by thousands of picky eaters across the country. The "thalis," or small plates, concept and upbeat atmosphere are a hit with gay couples and groups, who can sample a variety of items instead of a single dish. Of the 430 pizzerias in the world with Associazzone Verace Pizza Napoletana (VPN) certification, a whopping 12 of them are in Seattle, the most of any US city. Via Tribulani (913 East Pike Street) earned the prestigious recognition in 2004 at its original Capitol Hill location and has since satisfied lovers of these wood-fired, Italian thin crust pies – that go down nicely with a draft Peroni – inside a dim-lit, brick interior space with bar counter right in the middle. Enjoy a meal and entertainment in one sitting at Julia's on Broadway (300 Broadway East), where American favorites from steaks and burgers to glazed salmon and stuffed chicken highlight the uncomplicated menu, and where RuPaul's Drag Race Season 5 winner Jinkx Monsoon performs routinely.
LATE NIGHT
When it comes to bars and lounges on Capitol Hill, there's something for everyone. Unicorn (1118 East Pike Street) is an imagination gone very wild. Playing on a French circus theme, its taxidermy-decorated walls and pastel-striped paneling make for an eye-popping experience, not to mention a downstairs bar with pinball arcade that is occupied Sunday afternoons for "Mimosas with Mama," a drag show hosted by Mama Tits.  Von Trapp's (912 12th Avenue) is a 10,000-square-foot German beer hall with five indoor bocce courts and capacity for 438 people, aside from 25 rotating draft "biers" and their own pretzels, cured meats and bratwurst.  The Cha Cha Lounge (1013 East Pike Street), below Bimbo's Cantina, has a definite kitsch factor with Mexican sombreros pasted to its ceiling and a photo booth near its restrooms, plus cheap cans of Modelo or Dos Equis.  Each of these places leans more straight than gay, yet are considered mixed. For gay action, have a night cap at The Lobby Bar (916 East Pike Street), where 2010 Le Femme Magnifique International winner Lily Armani appears on Thursdays. Or, to end it all with a bang, swing by the Cuff Complex (1533 13th Avenue) for dancing and social activity in indoor and outdoor areas, or the tri-level R Place (619 East Pine Street) that has a mix of karaoke, pool tables, dart boards and fun themed nights, like Robbie Turner's "Playground Wednesdays" with wet underwear contests, dating games and strip show.
Editor's note: For more ideas for your 48 hours, check out Visit Seattle's www.2daysindseattle.com web site which curates travel tips from social media influencers. You can filter your search Capitol Hill and other city neighborhoods.
*The Seattle Asian Art Museum is temporarily closed for renovations with an expected reopening in 2019.
Save